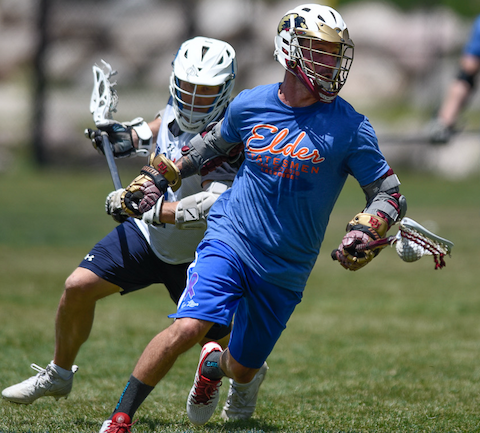 Tim Price - Level 1 certified coach by US Lacrosse
Coach Price grew up playing lacrosse in West Chester, PA, but after moving to Colorado with his family during his 9th grade year, he became part of the western expansion of the game, and has never looked back. He began his career out west playing attack at Colorado powerhouse Arapahoe High School, earning all-state honors and leading his team to its first quarterfinal appearances as a junior and senior. Following HS, Tim joined the University of Denver lacrosse team from 1994-1998, helping the program make the jump from Division II to Division I in 1997-98. At DU, Coach Price finished his career a leader in single-season and career assists as an attackman for the Pioneers. Following his undergraduate years at DU, Tim continued his education there as a graduate student, becoming a player-coach for the school's club lacrosse program. Tim then took his first head coaching position at Cheyenne Mountain High School in Colorado Springs, CO, where he also taught high school English. In his first year with the Indians he was honored as the Southern Conference Coach-of-the-Year, spending five years building a program that is now a staple in the Colorado lacrosse community.
Moving back to Denver in 2008 to start his doctoral work in Education, Tim joined the Columbine High School rebels as an assistant coach, leading the offense through two playoff runs, as well as keynote program wins against national contenders in Florida, California and Maryland. Following his work there, Tim then moved to Aspen, CO to teach English once again, here taking on position of first assistant coach for their lacrosse team. Ultimately, the lure of mountain life led him to the Wood River Valley, where he now lives with his fiancée, his two children and three step-children. He currently teaches graduate level research classes online and mentors teachers for the College of Southern Idaho. He is proud to live in this beautiful place, and to help build a thriving youth lacrosse community in the Wood River Valley, and, moreover, a deep appreciation for the game.
In addition to coaching at youth and high school levels, Tim has also worked at summer camps as a coach and coordinator for a variety of different schools and programs, including Lax.com, Mike Pressler of Bryant University, Boise State University, and Brian Langrtry's Six Star Idaho lacrosse experience in Boise last summer. He also still plays for a variety of men's club programs such as the DU alumni team, Boondoggle, the Elder Statesmen out of Hobart University, and the Bushwood Lacrosse Club from Denver, CO. If he doesn't get hurt in national championship tournament for old guys over MLK weekend in Florida this January, he will be sure to keep playing until he is old, frail, and even more bald (if that's even possible). Coach Price manages all Grants related to Sun Valley Lacrosse.